OCEANSIDE, CA. - DECEMBER 2010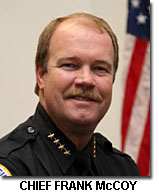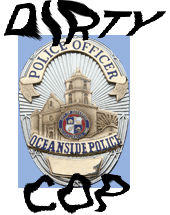 Chief Frank McCoy ---- Brenda Sue McCoy
On Thursday, December 16, 2010, following a series of family disputes, Brenda Sue McCoy, wife of Oceanside Police Chief Frank McCoy made a 911 emergency call to the Cypress Police. Brenda McCoy told the Cypress Police that she needed help. Sgt. Bruce of the Cypress Police stated that at approximately 7:00pm, when Cypress Police Officers arrived at the McCoy residence, they found Brenda Sue McCoy highly emotionally disturbed, and armed with a semi-automatic gun. Bruce stated that responding police were aware that the residence was that of Oceanside Police Chief Frank McCoy.
Cypress Police Officers took cover behind police cars as Brenda McCoy screamed at police and waved the gun in the air. Brenda McCoy pointed the gun at the residence ceiling, and her own head, before zeroing in on the Cypress Police Officers, and opening fire. Brenda Sue McCoy fired two rounds at police as she retreated into the residence. Brenda Sue McCoy, wife of Oceanside Police Chief Frank McCoy, had used a 911 emergency call, to set up an armed ambush, on Cypress Police Officers.
The Cypress Police Swat Team was called in to handle an armed barricaded suspect. The result was a three hour stand off, with the armed suspect Brenda Sue McCoy inside the residence. The Swat Team stand off only ended with the firing of non-lethal bean bag weapons at suspect Brenda McCoy to get her into custody.
Chief Frank McCoy arrived back at the residence shortly after the police stand off started. Sgt Bruce declined to comment on the presence of Chief McCoy at the residence shortly before, or during the 911 emergency call Brenda McCoy made requesting help.
Cypress Police, and the Orange County District Attorneys Office were asked if the on going criminal corruption investigations involving Chief Frank McCoy, and the Oceanside Police Department, where connected to Brenda McCoy setting up an armed ambush on Cypress Police Officers. Both agencies declined comment, citing state privacy laws, and an ongoing criminal investigation.
Brenda Sue McCoy was taken into custody and charged with five felony counts of Assault With A Semi-Automatic Firearm On Police Officers, and two felony counts of Discharging A Firearm With Gross Negligence. Brenda Sue McCoy was later released on a $250,000. 00 bond. The seven felony counts have a potential prison sentence of fifty-eight years.
All details surrounding what led up to the shooting and the involvement of Chief Frank McCoy are being actively suppressed at this time. It is not know at this time, if the on going publication of a two year criminal corruption investigation involving Chief Frank McCoy, the Oceanside Police Department, and City Council where a factor in the armed criminal ambush of police officers by Brenda McCoy.
This reporter, as a former police officer, has observed many family disputes that resulted in violence against the husband, the wife, or some other innocent person. Family disputes always involve two or more persons. However, for the wife of an active Chief Of Police to set up an armed ambush, on innocent police officers, requires an extreme amount of emotional hate and distrust. In this reporters opinion, Chief Frank McCoy should have been terminated long ago for criminal corruption in Oceanside, CA. In this criminal incident he should have been suspended, at the very least, until a full criminal investigation of his involvement in this police ambush is completed.
The Oceanside City Council, as usual, turned a blind eye to all criminal corruption involving Oceanside Police Officers, Firemen, or Council Members. Some for extra campaign finance money, some for fear.
THE BRENDA McCOY CORRUPTION CONNECTIONS EXPANDS IN 2012 WITH FBI CORRUPTION COVER UP.